What's Conclave?
So what is Conclave? The short answer is: A lot of fun!
It's a weekend where ten lodges which form a "section" – our section is E3 [Eastern Region-3] get together at a scout camp once a year and compete against each other and train with each other to become develop as Arrowmen and as leaders. There are ceremony competitions, Quest games, campfires and shows, Order of the Arrow training, administrative competitions, and tons of other fun!
You can read more about Conclave on this page, or just jump ahead and register on the Section website.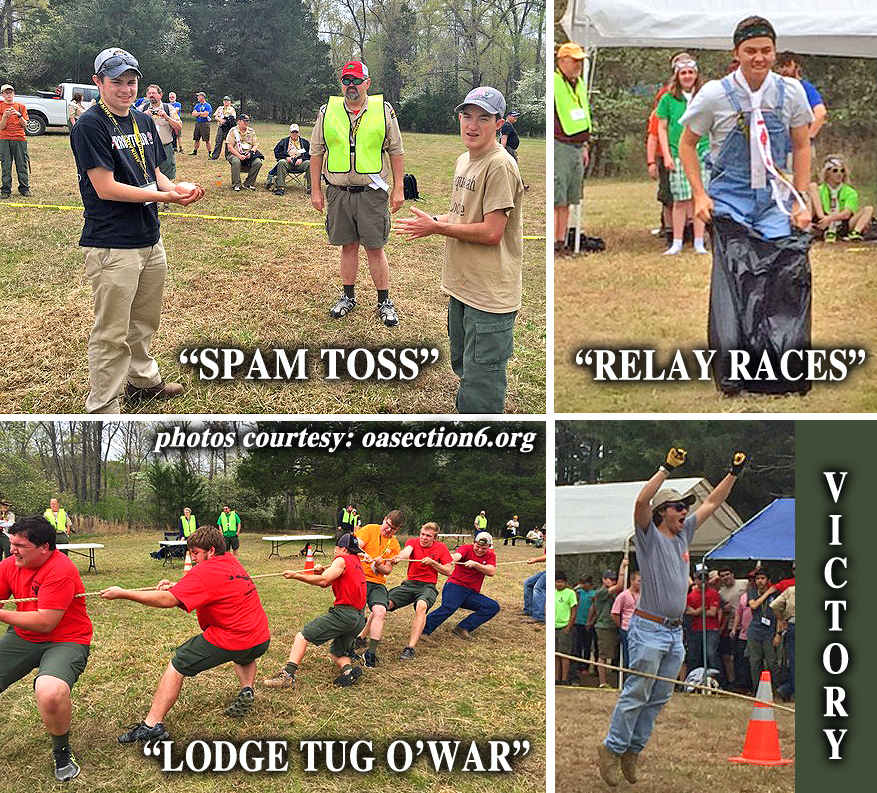 One of the coolest parts is that you get to meet brothers from other lodges across Tennessee and surrounding states and learn how their program is different from Talidandaganu's. Ideas are exchanged, they're brought home, and they transform the lodge to become even better.
What Should I Bring?
The Conclave website may have specific information about what to bring, wear, etc., and each Conclave is different. Generally, you'll want to bring the following:
Bring your own tent (or share with a buddy), but sometimes the host lodge will provide tents and cots.
You'll definitely want your full Field uniform (with OA sash!), but don't worry about food – that's taken care of!
Bring any ceremonial items you might have: costumes, props, or just ideas.
Bring some extra cash for the trading post to pick up a Conclave patch or mug.
Bring a notepad to write down neat ideas and email addresses of friends you meet.
Bring running shoes and a Activity uniform for the Quest Games, which also change each year.
Definitely bring an up-to-date medical form!
Grab a Frisbee and football for extra entertainment.
And of course, bring traditional camping gear like a raincoat/poncho, a flashlight, toiletries, and sleeping bag.
Tell Me Again, What is Conclave?
The Field Operations Guide gives us a longer explanation of what Conclave is:
Next to a jamboree and the National Order of the Arrow Conference, a section Conclave is probably the largest inter-council event in the Boy Scouts of America. What happens at a National Order of the Arrow Conference and a section Conclave can make a big difference in the effectiveness of Lodge and Chapter programs of the Order of the Arrow and in the dedication of an individual Arrowman to his first responsibility– the unit.

The Conclave program should increase the knowledge and understanding of the delegates in all aspects of the Order of the Arrow program. Arrowmen should be inspired to set and commit themselves to higher goals of performance for themselves and their Lodges and should be provided the training necessary to achieve these goals.
Inspiration is the key ingredient of the Conclave. The Conclave should kick off with a welcome from the service Council and a short opening ceremony. It is equally important that the Conclave close with an inspirational challenge that will create a lasting impression on every Arrowman who attends. Youth leaders, such as the National Chief, National Vice Chief, or Region Chief, might be invited to give an inspirational message during the Conclave.
Training is the most beneficial aspect of the Conclave. It is one of the main reasons Lodges come together as a section. Conclave trainers must be top-notch; guest trainers from other areas can help bring new ideas. Displays from various state and federal agencies, local colleges, wildlife experts, and camping merchandisers always draw a crowd.
A special period is often set aside at the section Conclave for workshops or skill sessions. [For example:] Campfire planning, Camping promotion, Lodge newsletters, and web pages, American Indian dancing, Making American Indian attire, American Indian drumming, and singing, Headdress construction, Beadwork, American Indian games, Ceremony team properties, Lodge record keeping, [and] Video production.
Several lodges may participate in various demonstrations that will be of value or interest to those attending the conclave. These might include
Unit election team in action
Camping promotions
A well-planned campfire
Scouting or American Indian pageants
American Indian dancing
Ordeal, Brotherhood, and Vigil Honor ceremonies performed by well prepared and rehearsed teams showing techniques of outfitting, staging, and speech inflection of memorized parts
Call-out ceremonies featuring local camp traditions
Meeting management.
Okay, You've Talked Me Into It – How Do I Go?
Well,….we're glad you asked!
Head over to the Conclave registration form on the Section E3 website
You'll need to get registered.
Then, put the dates on your calendar, make sure you can get a ride to the Conclave (talk to the Lodge Adviser if you need help with that), and
Take lots and lots of pictures (email them to the web guys who might put them up on the website!)… and if you can they wouldn't mind having a few sentences about your experience at Conclave.